Tivoli Picture House / New Tivoli


52 Gorgie Road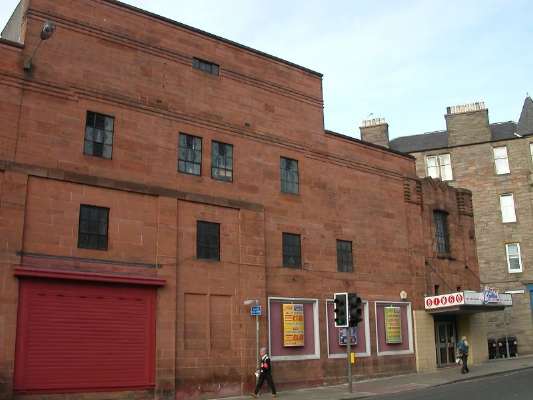 2009 Interior images courtesy Owen Lima
The original Tivoli opened in August 1913, by Menzies, Cockburn and Johnston. It incorporated a stage, which saw touring variety artists from time to time, and sat around 580. The original decorative scheme was noted as being predominantly cream. Sound equipment was installed in 1929.

[1913 Archive images courtesy of the Scottish Screen Archive at the National Library of Scotland]

The Tivoli closed, and demolition work started in July 1933.


The replacement building, the New Tivoli, was designed by prolific cinema architect

James McKissack

, and opened in January 1934. It incorporated some of the fabric of the earlier building, in particular most of the facade, which was extended upwards and eastwards. The facade was fitted with an impressive jazzy neon scheme. Seating was now for 1200, and the plans included stage and dressing rooms.




[1938 Archive images courtesy of the Scottish Screen Archive at the National Library of Scotland]


This closed as a cinema in July 1973, and from then until 2006 was on bingo. Currently derelict, the building has recently (January 2008) been purchased by the Destiny Church group, who plan to restore the building and use it as a church.



The 1930s sand-blasted art-deco window decorations are still visible on the exterior, and the interior retains most of its 1930s detailing. The building was

B-listed

by Historic Scotland in 1993.


The interior of the Mecca, Glasgow has similar decorative details to the New Tivoli.


A full interior photo survey of the interior c.April 2008 can be seen here.

Many thanks to Peter and Owen of Destiny Church for taking the time to show us around the building.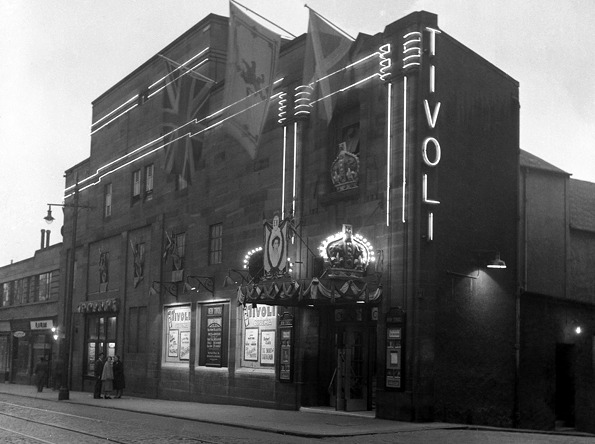 Archive image of the exterior decorated for the Coronation courtesy of Nigel Baxter



Unless otherwise specified, all photographs and other material copyright (c) 2001 - 2020 Gordon Barr and Gary Painter.
All rights reserved. Permission for use elsewhere normally granted, but
please ask first
!
No attempt is made to infringe any existing copyrights or trademarks. Please
contact the editors
in case of any queries.