Opened 7.8.22 by JJ Bennell. Architect McInnes Gardner & Campbell Reid to seat 2,004. This replaced an earlier
BB Cinerama
that had opened nearby in 1912.
Sold to Gaumont, 1929. Auditorium extended and a new entrance on Butterbiggins Road, incorporating a large sunburst design, added in 1931, by architect James L Ross to seat 2,662. Renamed New Cinerama from 1948.
Rebuilt, renamed Odeon, 24.2.64. s. 2,003.
Closed 6.10.81. Demolished late 1986.
Photos c1986 courtesy Chris Doak.
| | |
| --- | --- |
| | 1986 Demolition gallery here, courtesy Chris Doak |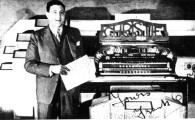 Image of Frank Olsen at the 2/8 Christie Organ, courtesy of Frank Watson / Scottish Cinema Organ Trust.
In July 2007, the site was being excavated to create foundations for a new development, and these fragments of the crest above the main entrance were uncovered [many thanks to Rod Alexander for the photos]. The quality of workmanship of the carving is still impressive!

Crest & globe c.1986
prior to demolition

Bottom of Globe
c.2007

Left wing,
c.2007

Wing carving detail
c.2007