"The La Scala was a nice cinema, which opened in 1913. I remember the old Chief telling me about the early days as he was there shortly after it opened (his name was Willie Oberbeck and his twin brother Freddie was chief at the Playhouse
Montrose
just before I went there). He told me there was a fountain in front of the stage and a cafe on the right of the building. The three box seats on the right were open so people in the cafe could view the silent films. During my time there the boxes were covered up with concrete blocks and velvet drapes hung in front.
Although it sat around 1,000 when it opened, the stalls were redesigned in the 1950s. The seating originally went up to the side walls with a central aisle; when redesigned they created three aisles, one in the centre and one running down the side of each wall. Seating was then 250 in the balcony and 600 in the stalls. The procenium was approx. 36ft wide, with a scope picture of 32ft. The screen curtains were festoon and lit by foot and batten lights. In 1965 the cinema was redecorated with a light blue on the walls and ceiling, with some of the ornate plasterwork picked out in white. The projectors at that time were Kalee 12s with British Acoustic sounheads and a Kalee duosonic amp. In approx 1974 the entire projection equipment was replaced with Westrex 7000 projectors and Peerless Magnarc xenon conversions. The magnarcs which were converted came from the Playhouse which had burned down in 1972.
When twinned in 1979 the projectors were Westrex 2000s.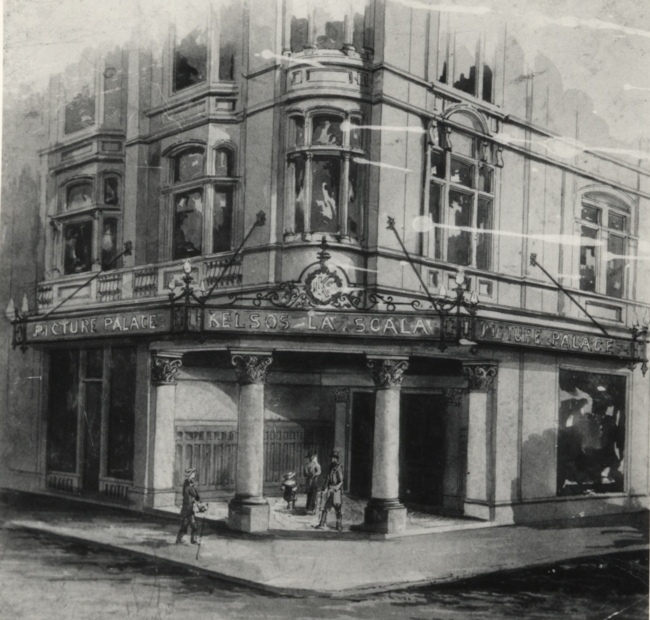 Original corner entrance on Academy Street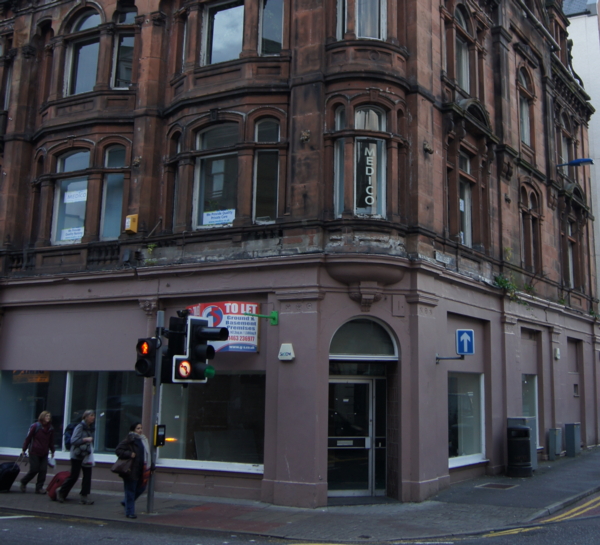 Same view in October 2010
The original entrance was on the corner of Academy Street and Strothers Lane. There was a set of double doors on each corner which led into a small vestibule with terrazzo flooring. You then went through another set of doors to the main foyer with the box-office on the left. Just on the other side was a set of stairs which took you down to the switch room, battery room and stalls gents toilet. It was on the top of these stairs that they built a wall closing off the old foyer and created a new box-office when the cinema was twinned. The entrance was then closed off a couple of years before closure and moved further up Strothers Lane to create a slightly larger foyer but a very narrow entrance, it just looked like a shop door. The original foyer had wood panelled walls and ceilings which were painted over in the 1965 redecoration. The original entrance had a canopy put up at some point in its lifetime which went round the entire corner. The original foyer was either sold or leased out to a camera shop and is still there - it's possible the old panelled ceiling is still there above the modern suspended one, so maybe a small part of cinema history still survives..."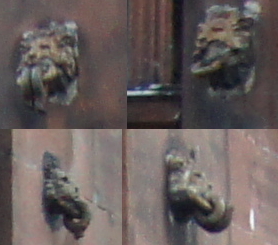 Detail of decorative lion's heads, which once supported a canopy, still extant in 2010.