Lerwick

North Star Cinema
Harbour Street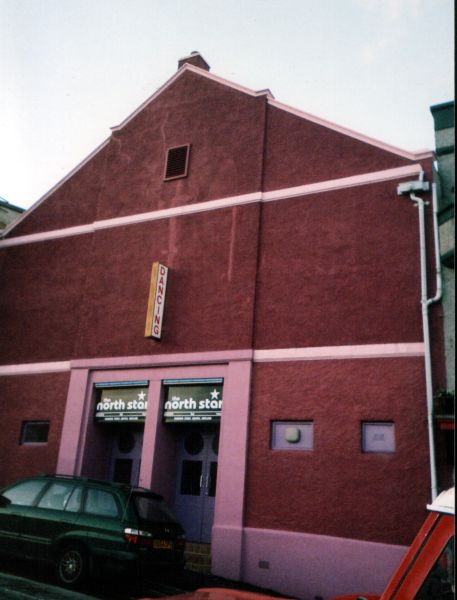 Opened 1913.
In 1976 it seated 600 and was on films five nights a week, bingo for the other two.
The stalls seating was removed in 1979 to allow for nightclub use, though films continued to be shown until 1989, with the last film possibly 'Batman'. It is currently a music venue/bar/club.
The balcony is no longer open to the public, though some cinema seating remains. The projection box, complete with Kalee projectors still in situ is, unusually, at the rear of the stalls, not the rear of the balcony.


| | | |
| --- | --- | --- |
| Door detail | Projectors | Projectors |
| Reels of film in balcony void | Stairs to balcony | Balcony looking towards rear |
| View from balcony front to stage | View from stage to balcony | Rear of auditorium |

The website for the North Star Club is at http://www.thenorthstar.co.uk/

A selection of 1930s archive photos of the North Star as a cinema - including original interior and exterior shots, can be found on the Shetland Museum Photographic Archives page here. In particular, on the interior shots notice the projection portholes at the rear of the stalls, and the picture of the original projectors.

Photos courtesy Gillian Boll.
Thanks to the manager of the North Star, Alan McCleod, for his time, enthusiasam and helpfulness!

Unless otherwise specified, all photographs and other material copyright (c) 2001 - 2020 Gordon Barr and Gary Painter.
All rights reserved. Permission for use elsewhere normally granted, but
please ask first
!
No attempt is made to infringe any existing copyrights or trademarks. Please
contact the editors
in case of any queries.