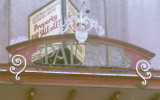 Opened in 1921 with seating for about 900. Bingo since late 1960s, currently a bar/snooker club.
A planning application was submitted in 2007 which would see the auditorium demolished for flats, but with the foyer retained. The outcome of this is not yet known.

Image of canopy c.1977 courtesy of Alistair Kerr. Exterior photo courtesy of Harry Rigby.