In March 1932, AG Macdonald was chosen by the Elgin Picture House Ltd. to design a cinema to be constructed on gardens behind the existing City Inn on the High Street. This explains why the cinemas frontage was low and undramatic; MacDonald had to insert an entrance into an existing building. The entrance block was a low, two-storey building, with a tiled roof. The cinema entrance itself was on the left of this block, a wide opening announced only by a projecting canopy above, which had neon lights underneath to draw people inside.

Perhaps the modest fašade allowed for a larger budget to be made available for the interior, since with two existing older cinemas already in the town (see below), the new cinema had to impress with its luxury and experience; the auditorium could not afford to disappoint.

The building opened on Thursday November 24th 1932, after a construction period of just 15 weeks. A message from the Prime Minister wishing the venture success was read out, and the opening bill featured 'Jack's the Lad' and 'Mickey Mouse'. Prime Minister Ramsey MacDonald visited his son's building in December of 1932. The new cinema was clearly a success, as the Picturedrome closed not long after the Playhouse opened, and the Picture House had gone over to bingo by 1964, leaving the Playhouse the sole survivor.

The auditorium once sat 1,522 in stalls and balcony – the largest capacity of any cinema designed by MacDonald. The ceiling consisted of a series of shallow steps, leading down towards the screen. Set into each of the steps are a row of circular house lights, each surrounded by a series of 'petals'. The proscenium consists of a series of two vertical pillars on each side, supporting a single, horizontal arched band, which was originally back-lit.

Original Entrance


Auditorium Side Wall


Auditorium Screen

[Images above courtesy of the Scottish Screen Archive at the National Library of Scotland]
The side walls featured a dark wooden dado, with horizontal banding running the full length of the stalls, up to door level. Above, a repeating pattern, mirrored on both sides, consists of conical-shell lights set between a series of illuminated vertical columns and decoration.



Playhouse Exterior
(original entrance)




Playhouse original interior


Rear of auditorium

The series of conical, shell-shaped lights emerge from a base of carved foliage, consisting of a series of five set vertically, each emerging from the next, reducing in size, until the sixth and final shell, set slightly above and separate from the rest.

A series of three vertical strips, outlined with thin bands, terminate in a central concealed light, from which further carved foliage appears to be growing. This is a trick MacDonald would use again in his later cinemas; by building up otherwise plain surfaces with a series of thin boards, the edges and joints between the boards would, when correctly lit, create a series of shadows enhancing a 3D effect, creating the illusion of depth cheaply yet effectively.

It is interesting to compare elements of Elgin's decorative scheme with the famous 'Mermaid's Palace' interior style of the London New Victoria (Trent & Lewis, 1930, Grade II*), with its stylised columns with graduated shell-like patterning, containing concealed lighting. Elgin's side-wall decoration and lighting could be seen as being inspired by this; certainly MacDonald was working in London at that time, and would have been familiar with the building.

In 1986, the Playhouse auditorium was twinned, and the entrance moved from the High Street to the side of the auditorium. The cinema now seats 330 in Screen 1 (original front stalls), and 220 in Screen 2 in the original balcony. The balcony side-wall decoration is currently covered by curtains, though it is thought portions of the original design is hidden behind these. The twinning has created Cinema 1 in the front stalls, retaining much original decoration. A new projection box was constructed under the balcony to service this. Screen 2 is the balcony, with a new screen erected in front of it; this is serviced by the original projection room.

Caledonian Associated Cinemas & AB King

The only truly Scottish-controlled cinema chain, the CAC Company was formed in 1935, with a registered address of Bank Chambers, Inverness, and the telephone number 'Inverness 1'. It grew through merging of a number of smaller circuits and individual cinema companies, until by 1947, it controlled 51 cinemas across Scotland. One of its directors was

Sir Alexander B King

, who mainly handled the booking of films for them from his offices in Glasgow.

AB King was also driving force behind his own circuit of over ninety cinemas across the whole of Scotland at that time; meaning he effectively controlled the booking for around 140 screens, allowing him to negotiate better deals from the film distributors, and made competing against the larger, well funded London-controlled chains such as ABC and Gaumont/Odeon much easier.

In 2007, only two cinemas still show films under the CAC name: the Playhouse Perth and the Playhouse Elgin.

Architect: Alister G Macdonald

The architect for the Playhouse was Alister G. MacDonald. It is the earliest surviving purpose-built cinema by this important architect, one of only a handful of his buildings to survive throughout the UK, and, crucially, contains his best known surviving auditorium.

MacDonald was the eldest son of Britain's first-ever Labour Prime Minister, Ramsey MacDonald. Alister's first cinema job was probably as Clerk of Works to Frank Verity for Paramount's Plaza in London's Regent Street in 1925-6. After a spell studying skyscrapers and sound insulation design in America, he went on to become the leading architect of newsreel cinemas in Britain. The skills he learned in the USA were to prove useful when it came to designing these small, compact news cinemas in cramped, awkward sites, such as railway stations. His most famous such designs were at Victoria and Waterloo Stations in London, although sadly his plans for a cinema in Glasgow's Central Station were unrealised. He also built numerous conventional cinemas, most notably for the Caledonian Associated Cinemas group (CAC) in Scotland, including the Playhouses in

Peebles

,

Montrose

[now demolished] and Elgin, the Broadway in

Prestwick

[due for demolition], as well as the

Empire Cinema

and Peace Pavilion for the Empire Exhibition in Glasgow's Bellahouston Park in 1938 – portions of the cinema were later moved to Lochgilphead, where they survive as a guesthouse, although the Peace Pavilion has been completely lost.

With offices in both Edinburgh and London, Alister Macdonald was well placed to take the latest cinema architecture trends and apply them to his designs across the country. His reputation and skills were clearly held in high regard – when the Architects Journal published a special book on Modern Cinemas in 1936, Macdonald was invited to contribute not just an examplar of his work on a 'typical cinema' (the Playhouse Montrose), but also an entire chapter on the design on the complexities of designing newsreel cinemas.





References



Architect DSA Entry
Building DSA Entry

The Cinemas of Alistair G MacDonald – Richard Gray
Picture House (Journal of the Cinema Theatre Association), No. 19, p.30-34

Modern Cinemas - A Special Issue of the Architects Journal – Architectural Press, London, 1936.
Section 2: Planning a Newsreel Cinema – Alister G MacDonald (p.7-12)
Playhouse Montrose, Angus – Complete Scheme – Alister G MacDonald (p.32-33)

A Brief History of Caledonian Associated Cinemas Ltd. Hornsey, Fuschiaprint, Stamford, 2004 (ISBN: 1901425983)

Cinema Circuit Statistics

The Scotsman: Weds 16 March 1932 (p.7)


Premier's Son's Success As Architect




"Mr Alastair MacDonald, the Premier's son, is the successful architect for a large new playhouse which is to be erected at Elgin by Elgin Picture House Company. Mr MacDonald was in competition with leading English and Scottish architects who specialise in picture houses, but at a meeting of the directors which he attended yesterday his design, which incorporated all the latest Continental ideas, was unanimously adopted."

The Scotsman: Fri 25 November 1932 (p.7)

New Cinema At Elgin

"A message from the Prime Minister, who was invited to the ceremony, wishing the venture success was read at the opening yesterday by Lord Provost Hamilton, of Elgin Playhouse, of which the Premier's son, Mr Alastair MacDonald, was the architect. Five hundred school children and a large number of unemployed, who were unable to obtain admission, were entertained to a free performance in Elgin Picture House, which is under the same management."

The Scotsman: Sat 31 December 1932 (p.8)

Mr MacDonald Visit to Playhouse Designed by His Son

"After the departure of Mr Lansbury, the Prime Minister motored to Elgin, where he paid a first visit to the new Playhouse, of which his elder son, Mr Alistair MacDonald, was architect.

He was accompanied by his other son, Mr Malcolm, and by Miss Ishbel, Miss Sheila, and his private secretary. At Elgin he was joined by Professor and Mrs Edgar Collis and other friends.

The party were received by Dr Alexander, the chairman of the directors, by whom they were shown over the building. They afterwards saw the film "The Silent Voice" in which George Arliss stars."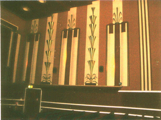 Click here for a gallery of the cinema interior in 2006, courtesy of David Low.
Many thanks to manager Martin Thomson for allowing access for photographs.